Wholesale Cocktail Napkins Supplier
We stock cocktail napkins in black and white to businesses in the UK. Perfect for handing out with drinks or dispensed at the bar. Check out our selection and order online today.
---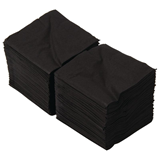 25cm Cocktail Napkins Black. Perfect for a sophisticated bar, to place under drinks. Excellent quality paper napkin.
25cm Cocktail Napkins White. Create that extra special dining experience with a quality paper napkin.