Wholesale Cocktail Napkins Supplier
We stock cocktail napkins in black and white to businesses in the UK. Perfect for handing out with drinks or dispensed at the bar. Check out our selection and order online today.
---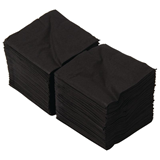 Black Cocktail Napkins - Compliment your dinner napkins with these classic embossed cocktail napkins. Minimalistic Black mixed for a cool and contemporary feel.  Perfect for handing out with drinks or dispensed at the bar!
25cm Cocktail Napkins White. Create that extra special dining experience with a quality paper napkin.
Napkins
For all your napkin requirements please find our range of table napkins available in a variety of colours and sizes. No matter what the occasion, our paper disposable napkins are available in a variety of colours to suit your needs. All our napkins are available with fast UK delivery to help with your business needs.
Available in a variety of sizes colours and qualities, our napkins are available as white napkins, black napkins, red napkins, blue napkins, yellow napkins, green napkins and even airlaid and cocktail napkins and quarterfold napkins. Ideal for use as party napkins or wedding napkins, restaurants and hotels, our table napkins are equally suited to everyday use.
As well as coloured napkins, we also offer Christmas napkins for a seasonal theme, please contact us about these, as well various other types of napkins for  parties etc. To offer something other than food napkins and dinner napkins, we also stock cocktail napkins and bar doilies to serve as drink napkins.