Wholesale Facial Tissues Supplier
Astral Hygiene has a range of wholesale facial tissues ideal for industrial and commercial environments. Our Softy facial tissues are high quality and provide excellent comfort and softness. Order online today.
---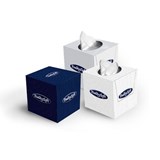 Boutique Cube Facial Tissues, 24 Per Case. Dispensed from a stylishly designed cube for a high-quality image. These cubed tissues 2-ply facial tissues are Eco-Label certified ensuring a quality product meeting the highest environmental standards. Perfect for either the domestic household or for the workplace, the elegant packaging guarantees these tissues are appropriate in all situations.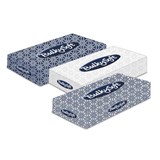 Luxury Oblong Tissues (100 sheets per box x 36boxes per case)
Wholesale Facial Tissues Supplier
All of our facial tissues are able to be purchased in bulk, ideal for both domestic and commercial usage. All types of industries require paper cleaning products like facial tissues including offices, tradesmen, schools and public institutions. Our bulk facial tissues are suitable for both workplace use and use in bathrooms for hygienic hand/face drying.
Waste Reducing Bulk Facial Tissues
All of our wholesale facial tissues are designed to minimise waste due to their "one tissue only" design, with only one sheet appearing at a time and the next tissue appearing ready after the previous one has been used. This system is not only waste-reducing but also hygienic due to there only being required touching of the tissue in use. These systems are ideal for high traffic institutions which get heavy usages such as hotels and restaurants.