Wholesale Wipes & Personal Care Supplier
Convenient and suitable for both commercial and personal use
Astral Hygiene is a wholesale wipes and personal care product supplier. Our product range includes hand wipes, surface disinfectant wipes, shampoo camp and cleansing foam. Order from Astral Hygiene today.
---
Conti Flushable Cleansing Dry Wipes are designed to be fully flushable and minimising the risk of costly drain blockages, these handy wipes have a high wet-strength and can be used for a wide variety of applications. Non-perfumed and void of chemicals that cause the skin to flare up.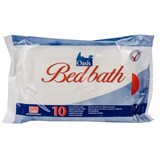 Oasis Bed Bathing Washcloths are impregnated with a unique combination of skin cleansers to help remove sweat, dirt from the skin. No need for protective sheets and bowls of water.