Janitorial Trolley Suppliers
Stay our organised with Astral Hygiene's janitorial trolley supplies perfect for business, schools and healthcare cleaning. Our mobile workstations ensure your janitorial trolley supplies is always to hand, allowing a continual high level of operational performance and efficiency. Order online today.
---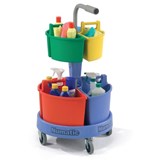 Astral Hygiene's NC1 Cleaning Trolly, also known as The Carousel is an exceptionally compact, easy to handle, cleaning module on a tough Structofoam (blue) base with 4 x 75mm castors.
WHAT ARE JANITOR TROLLEYS? 
Janitor Trolleys are carts used to move cleaning supplies like sprays and cloths easily around a building, up and down floors, and in and out of doors. They can also be used to store other cleaning products for on the go ease, with different compartments and levels to maximise on the amount of space a person can work with. Some trolleys even have space to store waste and dispose of it neatly without having to worry about a bag splitting.
WHAT CAN JANITORIAL TROLLEYS BE USED FOR? 
Janitor Trolleys can be used in most environments, but are most commonly used by professional cleaning companies in commercial and industrial settings. When there's multiple floors in a 4 to 5 storey building to clean after a hard day's work, a Trolley makes the task a lot easier to manage. 
We have a diverse range of janitorial trolleys, ideal for storing cleaning equipment whilst on the go. suitable for repeated daily use thanks to their sturdy infrastructure and secure frame.
WHAT BRANDS DO WE STOCK?
Janitor Trolleys are a popular cleaning tool and at Astral Hygiene, we want to supply you with the best. From great brands such as Contico and Numatic, in both Carousel and Graphite types, we stock all kinds of janitor trolleys that could suit your cleaning needs. These trolleys are suitable for repeated daily use thanks to their sturdy infrastructure and secure frame