Washing Up Liquid
Concentrated formulas for commercial and industrial kitchen environments
Our range of concentrated washing up liquids are a long-lasting cleaning solution for the cleaning of crockery, glassware and other kitchen utensils. Order online today
---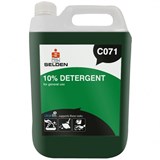 This 10% Detergent is a brilliant product that you can buy in volume and it cuts through grease, creates a nice amount of bubbles in the water and makes your dishes really clean.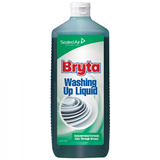 Bryta Washing Up Liquid is an effective concentrated formulation that gives excellent economy. For use on crockery, utensils, pots & pans. Long-lasting foam means long-lasting efficiency of cleaning solution. Order online today.
Eco Friendly Washing Up Liquid. 1ltr Eco-label approved product. Super concentrated, tested and approved at dilution 1 part detergent to 1000 parts water. Mild long lasting foam, perfect for dishwashing by hand. Leaves crockery and glassware sparkling clean and streak free. Eco-friendly formulation. Buy today for priority courier delivery.