Washroom Cleaning Products
A wide range of solutions that kill a wide range of bacteria and freshen your washroom
Astral Hygiene have a large range of washroom disinfectants available as ready-to-use sprays or cost-saving concentrates. Check out our selection below and order online today.
---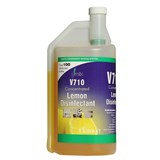 Lemon Disinfectant concentrate kills smells and malodours and leaves fresh lemon atmosphere. V710 contains a broad spectrum quaternary biocide. Use as a general disinfectant for floors, walls and drains in hospitals, schools, nursing homes, offices and factories etc. N.B. Do not use in food preparation or serving areas.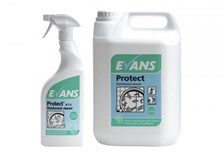 Evans Protect Disinfectant Cleaner 5ltr. Kills a wide range of bacteria. Passes BSEN 1276 BSEN 16777 and BSEN 14476. Leaves a clean fresh odour. Protect is also effective against enveloped viruses, including Coronavirus and helps to prevent cross-contamination.