Bathroom Toilet Brushes
Ideal for household and commercial use
Keep your toilets clean from bacteria with our range of plastic toilet brushes, suitable for every type of washroom and bathroom. View our range and order online today.
---
Astral Hygiene's Brabantia Toilet Brush is corrosion-resistant, making it ideal for bathroom use. Toilet brushes are also important in your bathroom or toilet. And buying one is fun if you can choose between different designs and colours. Thus, your toilet brush always matches the rest of your toilet or bathroom décor! All toilet brushes from Brabantia have a 10 year warranty, are rust resistant and easy to clean. If you already have a stand, but you would rather get a new toilet brush because yours is in need of replacement, Brabantia also has replacement brushes in the range. Order online today.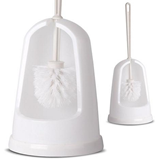 This great value Semi-Enclosed Toilet Brush and Holder has quality bristles made from bleach resistant polypropylene, helping to provide powerful cleaning and improved hygiene. Lightweight as well as durable, the semi-enclosed design assists in hiding the toilet brush when not in use. Suitable for use in school, hotels, shop etc. Order online today.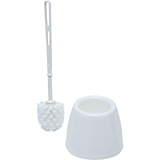 Astral Hygiene's economy washroom toilet brush and holder is a low-cost set ideal for household and commercial use. Even if your bathroom is the smallest space in your home or business, it still deserves some love - right down to the humble toilet brush. Our toilet brushes are replacement brushes, so there's no need to throw away your toilet brush holder and handle when the bristles have worn out. Order online today.