Dairy Detergent Supplier
High-strength solutions for livestock farmers
We supply a range of dairy detergent products for farmers in the UK. Our dairy detergent products have excellent grease removal and high dilution properties. Check out our selection below.
---

Cidox Chlorine Dioxide Disinfection Tablets uses the power of ClO2 to make a high level sporicidal disinfection solution that is more powerful, yet uses 10 times less chemicals than equivalent chlorine tablets or bleach. - Powerful disinfection in a small easy to use tablet. Buy online today! BS EN 1276 Certified.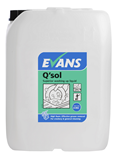 Q-Sol is a high strength detergent excellent for cleaning of floors, walls, utensils and equipment in the parlour, dairy and farm kitchen.