Dairy Detergent Supplier
We supply a range of dairy detergent products for farmers in the UK. Our dairy detergent products have excellent grease removal and high dilution properties. Check out our selection below.
---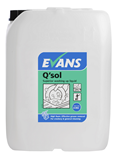 Q-Sol is a high strength detergent excellent for cleaning of floors, walls, utensils and equipment in the parlour, dairy and farm kitchen.