Urinal Cakes
Industrial Urinal Cakes and Toilet Blocks for busy washrooms and toilet facilities
Our industrial grade urinal cakes and toilet blocks are essential for keeping busy washrooms and toilet facilities clean and fresh. View our products below.
---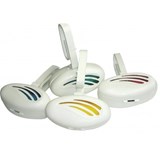 Specially formulated toilet freshening and cleaning blocks with slow-release fragrance and scale inhibitors.
Jeyes Sanilav Channel water-soluble, biodegradable urinal blocks which will not block outlets. They are detergent-based and long-lasting - up to 30% longer than competitors.